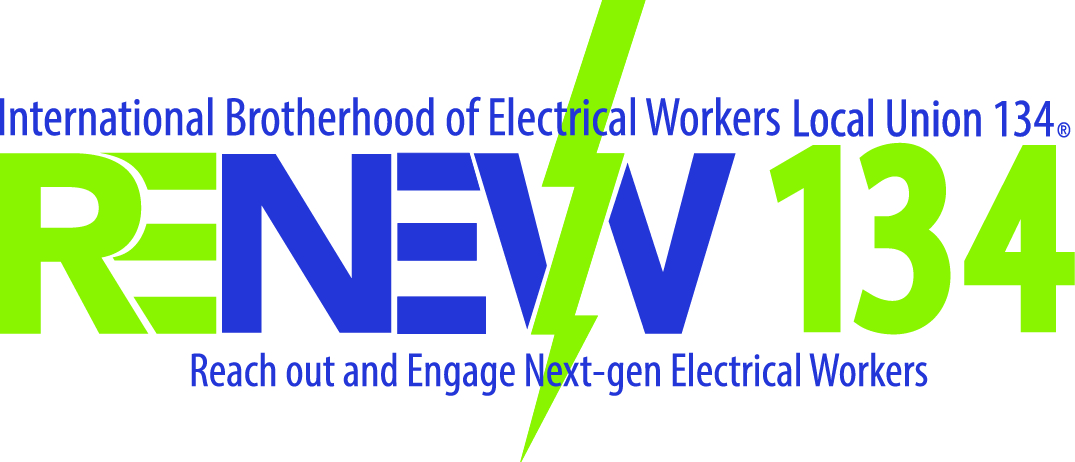 Officers
President: Dawn Sparr
Journeyman Chairman: Jasen Howard
Apprentice Chairman: John Felke
Recording Secretary: Wes Miskowiec
Financial Secretary: Frank Rodriguez
Sergeant at Arms
: Robert Benline
About Renew
ReNew 134 works to Reach out and Engage the Next generation of
Electrical Worker. We inspire to promote, empower and unite members to participate in the labor movement through education, collaboration and active involvement to foster solidarity. Our goal is to teach the next generation of IBEW workers to be involved within their Local Union and community by mentoring through outreach programs, education, and activities within IBEW 134 and beyond.
Renew is open to all IBEW 134 members, regardless of age and classification.
For more information or to join our mailing list contact us at renew@local134.org
Upcoming meeting:
Upcoming Meeting:
Please Join us at the May Renew meeting, where will have the nominations for the Renew Officers Board. Elections will follow at our June Meeting.
May 25, 2017 - Nominations
June 29, 2017 - Elections
Upcoming Events: