Coronavirus FAQ
IBEW Local 134 COVID-19 / Frequently Asked Questions
---
Q. If a member is laid off and is stamped under recall rights and gets called back under those rights, and the job only lasts a couple weeks, does he get his same number back on the books he had under the original recall?
A. No he only gets one recall chance. If he comes back with a R.I.F. he would be like any member prior to COVID and WILL go back to the bottom of the book.
---
Q. I've seen a lot addressed over the last 2 weeks but nothing pertaining to union dues being suspended or pushed back, other than you can pay them online. With members being laid off or sitting at home due to the virus, how are they expected to come up with union dues when they have other priorities like mortgage, gas, electric bill along with grocery bill and car notes? Will the union be setting something up to help those brothers and sisters?
A. This Local has gone to Working Dues system some 6 years ago. You Quarterly dues on your card that is owed goes for Life Insurance, International, Affiliate Trades, Chicago Federation of Labor and Cook County Building Trades Council. If you are laid off we have increased SUB and Unemployment has increased by $600.00 weekly.
---
Q. When can we expect an update on the recall date of April 15.
A. We should be notified by the IBEW International Office In the next 7 days.
---
Q. Should we be issued a face mask?
A. If the jobsite mandates a face mask then it is to be supplied by the Contractor.
---
Q. I am currently a trainee and the jumpstart program was recently postponed, I was just wondering when it will be postponed to, and also when will the apprenticeship test dates be postponed to?
A. At this time, we do not have a rescheduled date because the stay at home order keeps changing. Once it is agreed upon you will be notified from EJATT.
---
Q. Will there be a one-time no penalty withdrawal of our annuity to help with those that are in need of finances.
A. At this point we have no plan to access your Annuity.
---
Q. Why is Chicago Heights middle school construction site open?
A. All construction sites are open. The Governor has deemed Construction Essential.
---
Q. If I am working an at a non-essential job site and sit at home for a month until the order is lifted willi get any compensation or do I need to be laid off to file for unemployment/sub fund? I would rather not have to file if I don't have to. It seems unreasonable to expect everyone to be laid off just to collect, but maybe I'm missing something.
A. You have to sign up for unemployment to qualify for SUB Fund.
---
Q. I was laid off before April 1st and the 30-day recall time limit, for me, will expire on April 20th. The current stay-at-home order is until April 30th. Will the recall be extended? Any way to take out a loan against my 401k/pension plan 5, instead of paying the credit union's interest rate?
A. The International President has the right to extend Recall. As soon we are notified the
membership will be made aware.
---
Q. Is the test on April 25th canceled? If so when will be the next test?
A. Yes, the test is canceled and once we schedule a new date all candidates will be notified.
---
Q. I am currently working on a data center in Elk Grove. It has about 25 electricians and around 20 other tradesmen. My question is if this jobsite is considered essential? My employer gave us a letter to keep in our car stating that we as electricians in general are considered an essential employee. This letter was given to us before the April 1st government extension. I'm not sure what to do.
A. All Construction jobs currently are deemed Essential. The only way jobs will be shut down is if the Governor creates an Executive Order stating what is Essential moving forward.
---
Q. Can we sign the book through the internet or on the phone?
A. Referral will add a Member to the Book after the Contractor sends the severance slip with "Recall" stamped on it. A Member can check his/her Registration information by logging in www.local134.org If the Member is not yet listed on the Book he can then contact the Referral Desk at HERE or call 312-466-8300.
---
Q. For the job sites remaining open are the General Contractors committed to doing temperature scans of the workers when entering the job at the beginning of the day?
A. Each General Contractor has different practices in place. The Local has been going job to job to make sure safety measures are being upheld. Please let any Business Agent know your concerns, all we need is the address and we will be there within 24 Hours.
---
Q. I received the email from an IBEW Covid Facebook page, their IBEW local will be required to supply each member on the job a face mask. Will th is be instituted in our local?
A. The Local does not supply face masks.
---
Q. Will nonessential A and C cards be pulled off jobs within the next 2 weeks?
A: There is no plan on pulling anyone off jobs. The only way things change is if the Governor signs an Executive Order to deem what is essential and non-essential.
---
Q. If you sign the books as a "rehire" what will happen in the following example: If I am number 100 on the books and listed as a rehire, and my company has not yet called me back, but my number comes up on the general list to be assigned to another job with a different company, do I continue to stay at the top of the general list, or go back to the bottom?
A. When you sign book as RECALL from your company you are only available to go back to your company. You will not be eligible for another job. Also, if you are not RECALLED in the time frame of the agreement you will remain on the book where you signed in.
---
Q. I have never filed for SUB fund before, how do I do it?
A. The best way to file is to go to E.I.T.'s website (www.fundoffice.org). Then click on the link for the SUB Application. After you complete the information you will receive the following information: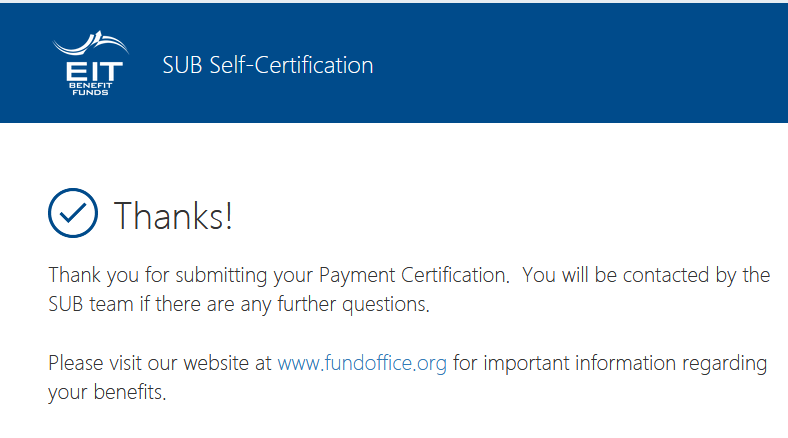 ---
Q. Do I still need to fax in my payment detail from the Illinois Department of Employment Services (IDES)?
A. NO. When you receive your IDES payment detail you MUST self-certify online. Again, you go to E.I.T.'s website (www.fundoffice.org). Then click on the link for SUB Self Certification.
Below is an example of the information that you will need to submit: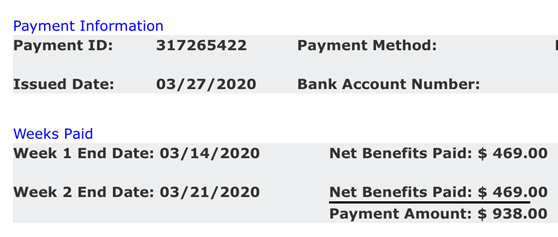 ---
Q. How long is my Health Insurance good for?
A. Due to the Pandemic, Local 134 has worked with the Electrical Insurance Trustees to extended Health and Welfare coverage for the next two eligibility quarters. To see if this affects you, follow this link. Click Here
---
Q. How do I know if I qualify for the additional Federal unemployment stimulus money?
A. At this point it is not clear who is and isn't eligible to receive this benefit. For more information on this issue, click here.
---
Page Last Updated: Apr 10, 2020 (04:59:12)